Riding helmets

Discover the luxury riding caps in our range. Safety comes first, but the eye also counts. Whether you are a professional rider or have horseback riding as a hobby. A good riding cap is very important. In our collection of caps you will find beautiful riding helmets from the best brands. In addition to riding caps, you can also contact us for all accessories and accessories for your helmet. Think of liners (loose inner linings), cleaning sprays and more. This way you can keep your riding cap beautiful and enjoy it for as long as possible!

About riding helmets

In most cases, wearing a cap is mandatory in equestrian sports. The shells of our riding helmets are made of polycarbonate. With a soft inner lining you make the helmet comfortable and fit around your head. Do you ride a lot of horses? Then we recommend ordering an extra inner lining or liner, so that you always have one when the other is washed. You can also buy winter liners that are ideal for cold and inclement weather. You can choose from different sizes in our range. In addition to small, medium and large, we use sizes from 51 to 63. With us you can also choose to put together a riding cap completely according to your wishes in your size! This way you can be sure that the cap fits your style perfectly.

When is a riding helmet good?

Riding helmets are very important. When you go horseback riding, you have to make sure you are well protected. It is important that your riding cap fits well. This should not be too loose, but if your riding helmet is too tight, it can pinch again, which can cause neck complaints or headaches. There are a few steps you can use to check whether your riding cap has the right size.

First of all, the helmet must fit well on your head. You can check this by moving your head back and forth. If the helmet stays in place, it fits well on your head.
At the front, the helmet should fit snugly against your forehead. There should be only a few centimeters between your eyebrows and the helmet.
The buckle of your helmet should not be able to go over your chin. Check if you have enough room to move by turning your head. The closure should not hinder your movements.
How do you measure the size of your riding helmet?

Measure your head size in centimeters. Your current size is not a good indication. Hold the centimeter just above your ears and measure the circumference. You round the number up. A circumference of 55.5 cm therefore becomes size 56. Do you have doubts about the size of your cap? Please contact us for advice about the right riding helmet or visit our showroom.

If you buy your riding helmet from us and the size is not right, you can simply return it to us within 14 days (except for custom helmets).

The brands of our Helmets

At Horse Riders Classics you will only find good quality products. The helmets in our range are from Samshield, Kask, Suomy and Charles Owen. The Samshield helmets are known for their extensive customization options. You can easily put this together in the configurator on our site. But you can also choose from our extensive range of caps, where you have already made a choice from all the custom options that are available. These liners are made of memory foam and are easy to attach to the outer shell of the riding helmet with press studs. The advantage of this system is that the cap grows with the rider, as it were. Moreover, the different liners are easy to wash and reorder, so that you do not immediately need a new riding helmet.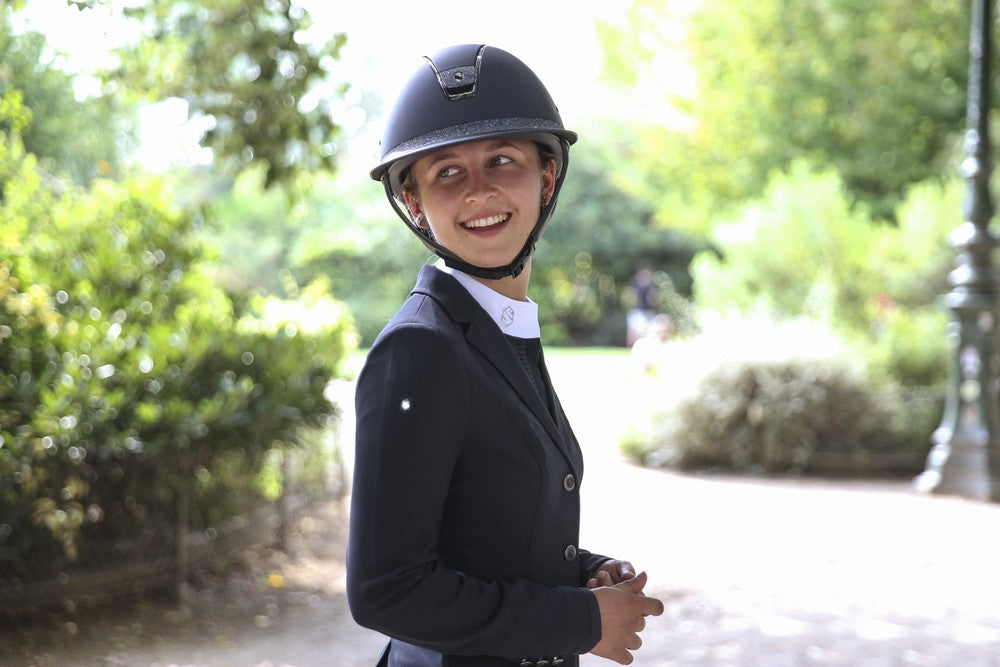 Buy Riding Helmets at Horse Riders Classics
Do you want to buy Riding Helmets ? That is of course possible at Horse Riders Classics. If you order before 4:00 PM, we will prepare your order for shipment today within Europe. Usually you will receive your package the next working day. Our shipment rates are shown during the check out. For international orders we have a fast delivery service with FedEx.
Contact