The Vestrum brand has such an extensive range, there is always something for you. Be inspired by the stylish and wide range, from jackets to riding breeches and shirts to accessories. With Vestrum you know that you are always going for the best quality!
The Vestrum brand
Horse riding is more than a sport. It's a way of life. That is what Vestrum Equestrian conveys. It is an equestrian clothing brand from Italy that releases an extensive collection of high-quality riding clothing every year. In addition to competition jackets, competition shirts and riding breeches, you will also find various lifestyle items in our collection with t-shirts, polo shirts, sweaters and more. But Vestrum is not just limited to the rider, you can also come to Vestrum for your horse. We sell various Vestrum saddle pads. Discover our large online Vestrum range.
History

The name 'Vestrum' means 'for you' in Latin. This name was chosen because Vestrum aims to share the brand's experience with riders through their riding clothing. Vestrum was once founded by real horse lovers. For example, Fabio Calamai, head of design at Vestrum, has a great passion for horse riding. With his experience he knows exactly what riders need when riding.
Style and quality from Vestrum
Vestrum makes high-quality riding clothing for professional riders and amateurs who want clothing that is practical and stylish, but also contributes to delivering the highest performance. Vestrum unites style with quality. Every detail has been thought about, so that you as a rider can move optimally in stylish riding clothing.
Whether you want to deliver a top performance at a competition, want to look good during a competition with the most beautiful competition clothing or are simply looking for riding clothing of the best quality. At Vestrum you can find all your riding clothing.
Vestrum innovative
In addition to style and quality, Vestrum Equestrian Wear also strives for innovation in technology and performance. The brand works with professional riders and experts to develop new materials and designs that improve riders' performance. Whether it's technical breeches with improved grip, breathable shirts or technical jackets, Vestrum offers products that take comfort and performance levels to new heights.
Vestrum Equestrian Wear is more than just a clothing brand; the brand represents a complete lifestyle for horse lovers. The brand offers not only clothing and equipment, but also accessories such as belts, boots and even stylish bags that perfectly suit the needs of riders.
Ambassadors of Vestrum
Vestrum has several top riders who are brand ambassadors. Among the ambassadors you will find some top riders, such as the French show jumping rider Thierry Rozier, the German dressage rider Eva Moeller, but also Dutch top riders such as Harrie Smolders.
Vestrum in our range
In our range you will find a large collection of Vestrum competition clothing with competition jackets, competition shirt and various riding breeches that you can buy to complete your Vestrum competition outfit. With this clothing you are not only assured of the best quality, you can also be sure that you will look stylish in the Italian way.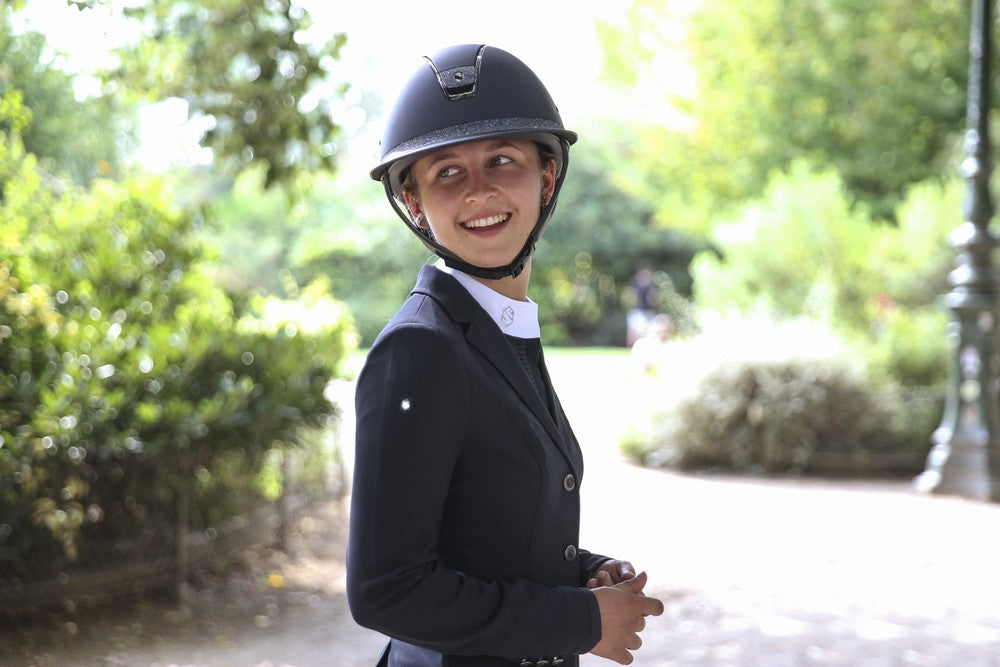 Buy Vestrum at Horse Riders Classics
Do you want to buy products from the brand Vestrum ? That is of course possible at Horse Riders Classics. If you order before 4:00 PM, we will prepare your order for shipment today. Usually you will receive your package the next day. You do not pay shipping costs for orders of at least € 99 (within NL, BE, DE).
In case you live outside the EU we offer VAT free prices. The VAT is taken off during checkout.

Would you rather come and shop in our store? You are always welcome in our shop in Ansen. Of course you can always contact us if you have any questions. We are happy to help you with professional advice.
Contact