Protect yourself well while riding: choose a Suomy riding cap. With Suomy you choose years of experience, not only in horse riding, but also in many other sports. View our range and order your Suomy cap today.
Suomy riding helmets
Suomy is world famous when it comes to helmets for the racing and water sports world. This Italian family business is now taking the next step in its development and focusing on equestrian sports. On the one hand, Suomy stands for safety, comfort and technological development and on the other hand for the unmistakable 'Made in Italy' style. The look of Suomy helmets is innovative in the horse world and a bit unconventional.
Your own Suomy look

This Italian helmet is really an item for riders who go for their own look and do not like to copy someone else. The Suomy team likes to work with wood. A natural material that is never the same, lively, chic and stylish. Just like you?!
The company understands that riders are not only looking for protection, but also for a cap that reflects their personal style. That's why they offer a wide range of designs and color options, so riders can choose the cap that best suits their taste and personality. Whether you prefer a classic look or a more modern look, Suomy has something to offer for every rider.
Lightweight and practical
Suomy riding helmets are characterized by lightweight technology, with a removable and washable liner. The shell sizes range from size 52 to 58 for Medium and 59 to 62 for size Large. The helmets are equipped with a ventilation system and a quick release chin strap that can also easily be replaced with a different color. Each helmet comes with a free inner lining and is packed in a luxurious backpack.

Suomy: safety first
When it comes to riding, safety is always the top priority. Suomy understands this better than anyone and has committed itself to designing and producing riding helmets that meet the strictest safety standards. They use advanced technologies and materials to ensure that their caps provide optimal protection in the event of a fall or accident.
One of the most important features of Suomy riding caps is the use of high-quality shock-absorbing materials. These materials help minimize the impact of a fall and protect the rider's head from injury. Furthermore, Suomy caps are designed with attention to detail, making them comfortable and easy to wear, even during long rides.
Innovation and research
Suomy continuously invests in research and development to improve their riding caps. They work with safety experts and use advanced technologies to ensure their caps are always up to date with the latest standards and requirements. This means that with Suomy riders can always rely on the latest technology to protect their heads while riding.
What will your Suomy cap be?
Suomy riding helmets represent the perfect combination of safety, style and innovation. If you are looking for a cap that protects your head without sacrificing comfort and style, Suomy is the right choice. With their years of experience and dedication to quality, they have built a reputation that provides confidence and peace of mind to riders around the world. So the next time you get on the saddle, think of Suomy for the ultimate riding cap experience. Safety always comes first, but that doesn't mean you can't look stylish while enjoying your ride.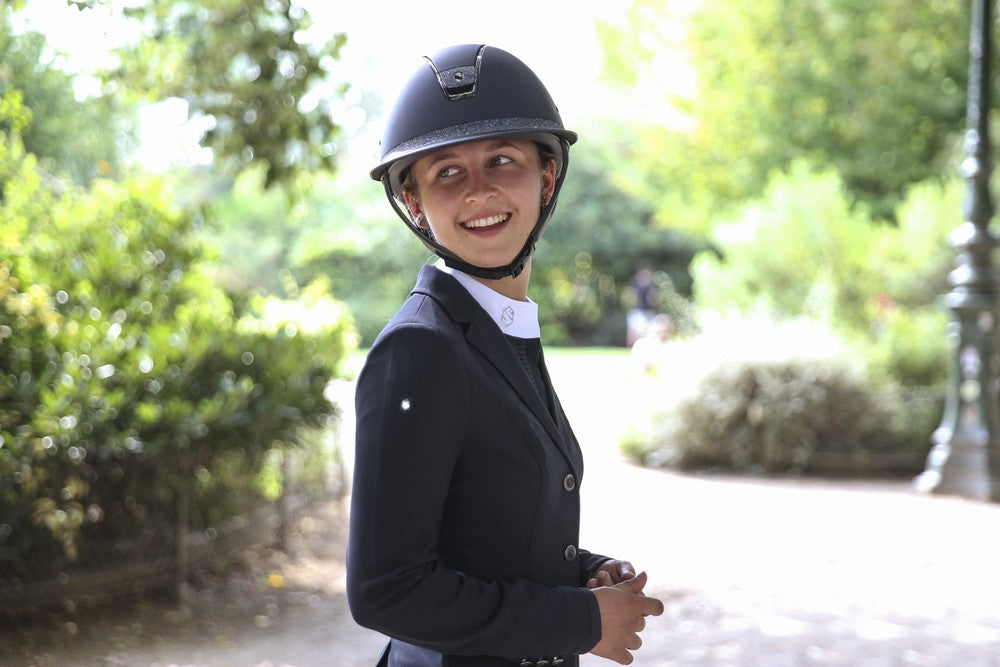 Buy Riding helmets Suomy at Horse Riders Classics
Do you want to buy Riding helmets Suomy ? That is of course possible at Horse Riders Classics. If you order before 4:00 PM, we will prepare your order for shipment today within Europe. Usually you will receive your package the next working day. Our shipment rates are shown during the check out. For international orders we have a fast delivery service with FedEx.
Contact