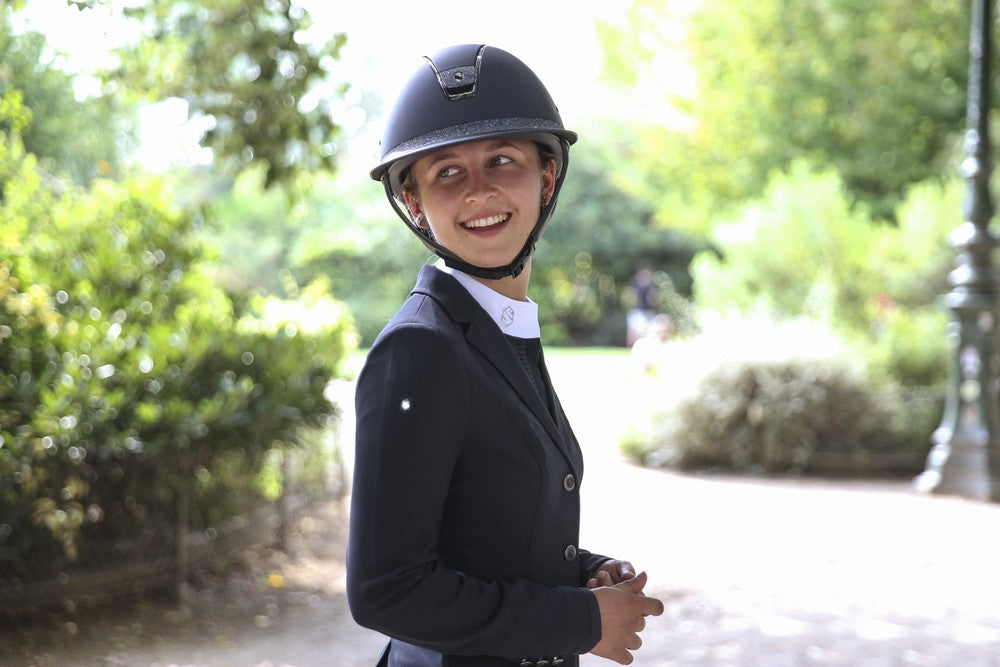 Do you want to return an online purchase?
On this page you can read how it works. Are you stuck? Then please contact us.
Ask your question
Returns
Items bought in our online shop should be returned to us within 14 days in perfect condition, complete with the labels, original packaging, and the returns form, we will then be happy to refund you within 14 days after the package comes back in our office. This does not affect your statutory rights.
Please note that we do not have a free return policy. The costs for returning a parcel are at your own expense. You can easily make a return label with our returns portal.
In case you life outside the EU and want to make a return to us, or in case you don't want to use our portal, please use our return form:

Exluded from return right
Please note that the below items cannot be returned unless faulty:
Embroidered Goods
Made to Measure Items
Items made in personalised colours
Bits
Horse Supplements / Food
Liquid horse products like shampoos, sprays, etc.
Return costs
You must make your own arrangements to return goods to us and you will be responsible for the cost of return unless goods are faulty. Next to that we do not refund the shipment costs from the initial shipment from our shop to a destination outside The Netherlands. We recommend that you obtain proof of postage as you are responsible for the returned goods until they arrive in our warehouse.

Customs
Please also make sure you mark your parcel as a return parcel. Else we are forced to pay customs which we always settle with the amount that would be paid back. Customs are always at the expense of the customer.

Refused - non deliverable packages
Packages that cannot be delivered, refused by the recipient, or are not collected from a Parcelshop within 7 days, will be returned to Horse Riders Classics. We charge € 12.50 extra return costs for this method of return. In case the transport company states a higher rate we also charge this to you. This is because DHL also charges these costs to us. If the package is received in the normal way and then returned, the regular agreements apply.

Exchange items
Please note that we do not exchange products. If you wish to have another size/color please return the item to us and place a new order for the other size/color.

All goods returned to us must be in a clean condition otherwhise they will be returned to you at your expense.

Our return address is:
Horse Riders Classics
Dwingelerweg 14
7964KK Ansen
The Netherlands

Please note that for articles bought in our shop in Ansen there are is an other returns procedure. Please ask one of the shop employees for the returns procedure.
Collapsible content
Cooling off period after online purchase

It may happen that you want to return an order. Perhaps because you do not like the product or maybe there is another reason why you would not want the order. Whatever the reason, you have the right to cancel your order up to 14 days after receipt without giving any reason.
Return policy exceptions

We assume that you treat the items with care. We do not accept returns on the following items:

Worn / washed / damaged clothing and products
Items where the labels have been removed
biting
Embroidered items
Custom made items
Items made according to your specification of the colors, the so-called custom made items
Nutritional supplements
Liquid care products
My product is defective: warranty

If your product is defective due to a production error, you can return the product. You can also do this via the return portal . We then ensure that the manufacturer handles the warranty.
Exchange product?

We do not accept exchanges. If you want to exchange a product, please return it to us and re-order the item in the correct size/colour. Our customer service will further process the return.
Address returns

Returns must be sent back to the following address:

Horse Rider Classics
Dwingelweg 14
7964 KK Ansen
Processing the return shipment

From the moment you hand in the order at a postal shipping point, it can take up to a week for us to process your return.

After receipt, every returned order will be checked. If it appears that your return has been returned undamaged and within the return period, you will receive a credit note by email and we will instruct the relevant bank or credit card institution to refund the purchase amount.

If you have paid with Klarna, we will instruct Klarna to adjust/expire your invoice.
refund

You will receive the full purchase price of the returned items (including shipping costs if you return the entire order) of your online order, usually within a week. Depending on the bank or credit card company, it can take up to 3 business days before you actually have the amount back on your credit card / bank account.

If the product is damaged or the packaging is more damaged than necessary to fit the product, the labels are missing or there are other damages or stains, we can pass on this depreciation of the product to you.
Return costs are not reimbursed

You will be credited with the full order amount including shipping costs. Only the costs for returning the package to our store are for your own account. These costs are approximately 6.95 per package (within the Netherlands). Consult the website of your carrier for the exact rates.

So treat the product with care and make sure that it is well packaged when you return it and that hangers, original product packaging are returned and that the cards are still attached to the product.

Packages that cannot be delivered, are refused by the recipient, or are not picked up at a Parcelshop within 7 days, will be returned to Horse Riders Classics. We charge € 12.50 extra return costs for this method of return. This is because DHL also charges us for these costs. If the package is received in a normal manner and then returned, the regular agreements apply.