At Horse Riders Classics we have a large selection of products from the Italian equestrian brand Equiline. In our range you will find elegant equestrian clothing such as competition jackets, riding breeches and riding socks. View everything from Equiline here!
Equiline: new products
Equiline also continuously brings new products to the market. So keep an eye on our site for the latest collections for horses and riders. You can also subscribe to our newsletter if you want to stay informed about the new Equiline collection.
History Equiline
Equiline was founded in 1989 by two Italian brothers, Paolo and Renatto Marchetto. The brothers shared a great love for horses and were actively involved in equestrian sports. They decided to use their love for equestrian sports and their knowledge of clothing and materials to start a new brand in horse products.
In the more than 30 years that this brand has existed, Equiline has grown into a household name in equestrian equipment. The brand has been committed to innovation and quality for both horse and rider, always in the context of sustainability. Everyone who loves horses now knows this Italian brand.
The quality of Equiline
Equiline's design process focuses on three pillars: innovation, technical aspects and elegance. These elements can be found in all Equiline products and their quality. Each product takes into account the requirements and wishes of both rider and horse. The result is clothing and accessories made from natural materials that are comfortable and breathe well.
Equiline: a top brand in equestrian clothing and accessories
Are you looking for stylish and high-quality equestrian clothing? Then Equiline is a very good choice. With more than 30 years of experience in equestrian sports, Equiline has become synonymous with quality, innovation and style. Whether you're a professional rider or a casual enthusiast, their clothing range covers all your needs, from jackets and breeches to competition shirts and accessories. What sets Equiline apart from competitors is their tireless commitment to quality and style, using only the finest materials and cutting-edge technology to create their products. We would like to tell you more about the Equiline brand.
History Equiline
Equiline was founded in 1985 in Italy by Paolo Marchetto. Since its founding, the company has focused on developing high-quality riding clothing and accessories. From the beginning, Equiline has been committed to using only the finest materials and cutting-edge technology to create their products. Over the years, the company has built a strong reputation as a leader in the riding industry and has become a favorite among professional riders and enthusiasts around the world.
Design and style of Equiline riding clothing
In addition to quality, the design and style of Equiline products is another key feature that sets them apart from other riding clothing brands. The company has a team of talented designers who work to create clothing that is both functional and stylish. The result is a range of products that are suitable for both the stable and the catwalk. Whether you are looking for a classic jacket for the competition ring or a trendy show shirt, Equiline has something for every taste.
Lifespan
Another factor that sets Equiline products apart is their durability and longevity. By using only the best materials and strict quality controls, Equiline products are designed to last. This means that you not only get a high quality product, but also one that you can use for a long time, making it excellent value for money.
Comfort and functionality Equiline riding clothing
In addition to style and durability, Equiline also offers excellent comfort and functionality. The company uses advanced fabrics designed to perform in all conditions, making you feel comfortable while riding regardless of the weather. Furthermore, Equiline garments are designed with the rider's needs in mind, making them functional and allowing you full freedom of movement while riding.
How do Equiline riding breeches fit?
Due to the stretchy, high-quality fabric, Equiline riding breeches will fit like a glove. Please keep in mind that these pants are of Italian origin and their sizing is different. We have added an Italian size and a Dutch size for most Equiline riding breeches. And in many cases it is wise to order a size larger as the breeches run quite small.
Many of Equiline's riding breeches have a lifting effect. In addition, these riding breeches will contribute to:
An improvement in your posture.
Improving blood circulation.
Effective cool down and reduction of acidification.
Reduction of muscle stiffness.
Equiline competition jackets
In addition to riding breeches, we also have many other riding clothing from this brand. We also have the most stylish competition jackets from Equiline for men and women. With this you will always look spick and span during the competition and on stage.
Equiline also offers sufficient jackets for daily use in and around the stable, such as wonderfully warm down jackets and body warmers. This does not alter the fact that a normal Equiline jacket is still very stylish. The production of a regular Equiline riding jacket still involves those three principles: innovation, technical aspects and elegance.
Equiline & sustainability
Equiline is not only committed to making high-quality products, but also to preserving the environment. The company has implemented a number of initiatives to reduce the environmental impact of their production process, including the use of environmentally friendly substances and processes. In addition, Equiline partners with organizations committed to protecting animal welfare and the environment, making the company a sustainable choice for any horse riding enthusiast.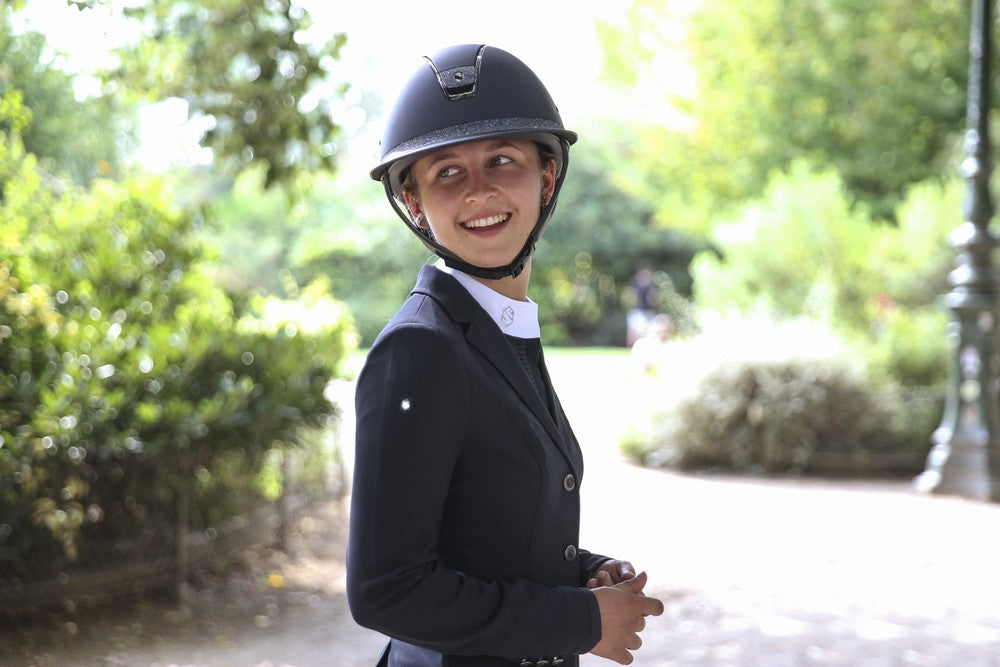 Buy Equiline equestrian at Horse Riders Classics
Do you want to buy products from the brand Equiline equestrian ? That is of course possible at Horse Riders Classics. If you order before 4:00 PM, we will prepare your order for shipment today. Usually you will receive your package the next day. You do not pay shipping costs for orders of at least € 99 (within NL, BE, DE).
In case you live outside the EU we offer VAT free prices. The VAT is taken off during checkout.

Would you rather come and shop in our store? You are always welcome in our shop in Ansen. Of course you can always contact us if you have any questions. We are happy to help you with professional advice.
Contact